Strip and Dip Creates Laughter
Tue, 23 Aug 11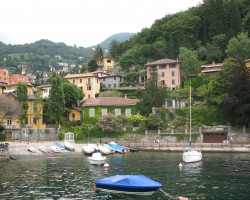 We hadn't planned to go swimming and we hadn't planned to hire a boat. But the day was perfect and the sparkling waters of Northern Italy's Lake Garda proved irresistible. Standing up and beginning to strip off, one of our group announced she was going for a dip.
No swimmers? My undies will do. No towel? I'll dry off in no time. Splash and she was gone. When she surfaced the rest of us were still laughing, not quite believing she would do it.
We were in Sirmione, a beautiful village on a narrow peninsula that juts out into the lake. It was hot work wandering through the astonishing Roman Villa ruins sprawled over the rocky outcrop and along the timeless trails of the surrounding olive groves.
The myriad of boats criss-crossing the lake looked like a good idea, so we signed up and headed off, not anticipating we were about to enjoy a legendary holiday moment.
Sometimes I wonder why we aren't more spontaneous. Like little kids. They'll do anything that comes their way. They don't get tomorrow. They live for the moment.
Teenagers often maintain a commitment to 'the moment' except if it comes early morning. But even when apparently comatose, if the sms or facebook ping rings inviting them to hang out with good friends, they find immediate energy and are out the door faster than you can say, 'make your bed'.
Spontaneity appears to diminish with age. Adults live less in the moment and more in the predictable.
After our Lake Garda jaunt I texted my friends' young adult children who were also in Europe with some of their friends. "You're not going to believe this but your mum did a 'strip and dip' in the lake today!"
They replied, "We feel ill." Feigning shame, they secretly admire their mum. Sure, they won't admit their admiration right now, but they will eventually.
She's colourful, creative, laughs a lot, and brightens the lives of those who know her. Her 'highly respected' professional husband finds himself shaking his head from time to time, but would be the first to admit she has added a lot of colour and laughter to his life.
Medical research reveals the more we laugh, the longer we live.
Tags: Enjoy Life, Live In The Moment, Swimming, Laughter