Seize Life!
Sat, 28 May 11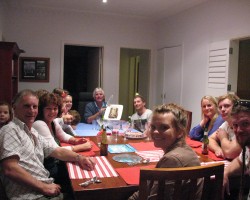 Seize Life!
We had sixteen for dinner one evening last week. Children, grandchildren, a 'battle weary' brother and his wife who had escaped the shakes of Christchurch for a few days, a niece…an evening filled with lamb roast, love and lots of laughter.
No one wanted to go home. Nice.
On one of my rare forays into the kitchen the day before, I 'helped' Moira build the mother of all desserts. Rows of chocolate ripple biscuits laid out flat and topped with a thick layer of cream. Repeated 3 times. And then an entire layer of cherries on top of a fourth layer of biscuits. Topped that off with another layer of chocolate ripple biscuits and a final layer of cream.
We followed that up with a huge pour of melted chocolate that ended up a lot thicker than planned and then placed it in the fridge. I brought it to the table with much ceremony and proceeded to try and cut it into slices, but the chocolate was like concrete.
So I found the biggest knife in the second drawer of the kitchen and proceeded to attack the delicious dessert. Actually the knife was like a machete and I had to wield it like an axe to break through the chocolate.
Everyone loved the taste, though Moira suggested my presentation skills needed an upgrade. Next time I'll make sure the layer of chocolate is a thin one.
Moira was still laughing when she woke up saying the first thing she 'saw' when waking was my violent axe like assault on the chocolate dessert.
The grandkids thought it was cool and everyone enjoyed it.
Love, laughter, good food, plenty to drink, story-telling, games, music and lots of hugs and kisses.
The wisdom of an ancient Middle-Eastern book known as Ecclesiastes is as relevant today as when written: 'Seize life! Eat bread with gusto. Drink wine with a robust heart. Oh yes – God takes pleasure in your pleasure! Dress festively every morning. Don't skimp on colours and scarves. Relish life with the spouse you love each and every day of your precarious life. Each day is God's gift. It's all you get in exchange for the hard work of staying alive. Make the most of each one! Whatever turns up, grab it and do it. And heartily!'
Way to go.