Salt Shaking Laughs
Sat, 28 May 11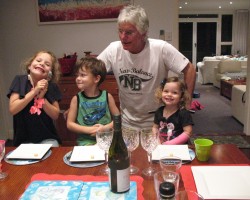 Salt Shaking Laughs
Her beautiful and glistening eyes said it all; "Don't do it! No one does that. Surely you're not going to…" But I did and she laughed, unbelieving.
One of the best gifts I ever received was a pair of tall, silver salt and pepper shakers. I think the batteries cost me more than the gift, but I love them. I've learned to put the 'double washed naturally evaporated sea salt crystals' into the shaker and here's the best part.
You don't have to grind or shake anything. You simply push a button and the rock salt is ground to fine and out it comes. It gets better. As the salt emerges a little light is activated so you can see how much salt is coming out.
Last week our family gathered for dinner and 3 of our little grandchildren were sitting on the opposite side of the table. After grinding some salt on my potatoes, I held the shaker above my head, pretending my next move was to put some on my hair. Their shining eyes suggested no one would be crazy enough to do it.
But I pushed and the salt cascaded onto my head. The kids seemed to enjoy my madness so I kept pushing for a while.
When I went to bed later I was still finding bits of salt in my hair. I guess I became a salt shaker.
Early next morning I was out in the garden as the kids enjoyed a swing. Noticing a cleared section of our garden one of them asked what I was going to plant in it. "Something colourful," I responded.
Six years Ellie picked up my discarded breakfast plate and suggested I plant it in the garden. So I did. I dug a hole and placed it on edge, carefully packing dirt and bark around it to keep it upright. The kids continued to laugh as I also planted the spoon.
When time to head inside I retrieved the plate and spoon, giving them a good clean off under the hose. Yoghurt and oat bran mixed with dirt and bark makes a good mix.
"Grandad planted his plate in the garden," announced the kids as we headed inside. "He what?"
These are the things Grandad's do. Aren't they?
As the ancient eastern text says, 'Laughter is like medicine'.