Harmony with Nature Renews
Fri, 27 May 11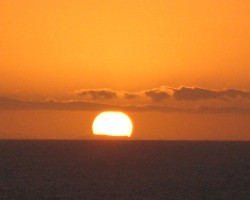 Harmony with Nature Renews
Driving through the 'breathe-easy' beauty of the Matakana wine territory a few days ago, we launched our boat at Omaha Beach. Heading out into the waters of the Hauraki Gulf maritime park we rounded the Tawharanui Peninsular and threw out a sea anchor between Maori Rock and Kawau Island.
You might have guessed by now I was in New Zealand.
Dropping our lines it wasn't long before my mate Brian and I were hauling in some serious size snapper. Several times we hauled in two or three at a time.
I caught the largest fish I'd ever caught and we threw back most of our catch, keeping only 14 of the biggest.
There's something satisfying, almost primal about catching fish. In travelling the world, I don't think I've ever walked past someone fishing without peering in their bucket or asking if they'd had any luck. It might take some simple sign language, but the response is either a proud smile or an 'out of luck so far' grin.
Those who fish are incurable optimists.
Half a day out on the water with a friend, a packet of Tim Tams and some fruit for lunch, sparkling sunshine, a gentle swell…it doesn't get much better.
Due to the time of day and the tides, my mate admitted he had little optimism for a good catch which only added to our sense of satisfaction.
Cleaning the outboard and the boat and filleting the fish are all part of the ritual and at $30 a kilo at the moment our snapper were worth more than the fuel it took to catch them.
After several speaking gigs in the region Moira and I headed back to stay with friends in Auckland, adding a heaped plate of snapper to the contents of their fridge.
Watching our friends relish the fresh fish dinner, I almost got as much pleasure at the table as I did out on the water.
Connecting with nature always replenishes me. Sure, we solved several troubling global issues while out on the boat, but mostly it was the simple pleasure of being at one with creation although the snapper probably didn't see it that way.
Most people say they feel close or closer to God when in the bush or at the beach. I'm one of them.