Signposts Give Life Direction
Tue, 23 Aug 11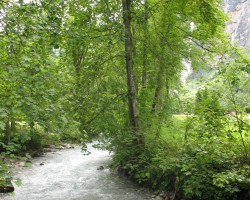 Finally 10 or 15 minutes from our destination of Menaggio, we were confronted with a road crew brandishing STOP signs. After finding one of their number who could speak a bit of English he informed us the road was closed due to a landslide and we would have to go back to Como, head for Lugano, enter Switzerland, follow the Lake, enter Italy again and then arrive at Menaggio. "Will only take not long. It's no problem. Straight there from Lugarno."
Asking when the road would re-open, he gave a happy shrug and announced, "Tomorrow. Maybe the next day." Thanks.
Having visited Italy before we knew the Italian version of straight bears no resemblance to anyone else's.
Our hotel in Venice provided us with a 'how to find us' card. It shows a straight red line from either St Marks Square or the Rialto Bridge. Easy enough until you try to follow the line which is about as straight as the proverbial 'dogs hind leg'. But of course it's all part of the fun.
One of the features of Venice is watching suitcase-laden tourists scrutinizing maps while trying to find their hotel.
Finding Lugano was easy enough. Finding a sign directing us to Menaggio or anywhere on the road towards Menaggio took advanced detective skills.
And then the fun began. Straight there meant a long and winding road which at times was just wide enough for one car and a motorbike. Which made for interesting moments when we met a 50 seat bus or a concrete truck.
Italians seem to take it all in their stride, showing lots of patience in sharing the road with brightly coloured, lycra-clad cyclists or elderly pedestrians out for a leisurely stroll.
For us, 'will only take not long' took over two hours.
When we're in familiar territory it's a simple thing to give directions to others who are finding their way.
Life's a bit like that. When looking for direction while going through the turbulence of a rocky relationship or looking for spiritual fulfillment or any other life challenge, it's a good plan to ask someone who knows the way.
Of course we have to tread our own path, but having someone point out a few signposts can help us arrive at the right destination.
The world's most influential person not only shows us the way; said he was 'The Way'.
Tags: Looking For Directions, Signposts, Destination Discovery, I Grow In Grandads Garden