Let kids 'pay their own way'
Tue, 23 Aug 11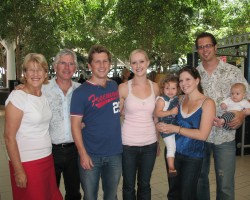 "The worst thing parents can do is give their kids a bucket-load of money," said Mike from his vantage point of 40 years as a lawyer. Mike specialises in deceased estate and divorce, which often involve vicious disputes over who gets what.
Quite often he ends up in a room with a bunch of adult kids fit for a fight over who gets how much. "When it gets heated, I give them a little speech that they can fight and argue as much as they want, and every now and then they'll have to tip $40,000 into the legal fee trough. Or they can work through the issues as adults which involves a bit of give and take, and look forward to receiving a healthy cheque."
Some choose to fight and often lose a substantial amount of their inheritance or entitlement, while others reach a healthy compromise, knowing the legal fees won't raise their blood pressure.
Money; both the lack of it and sometimes too much, produces extremes of emotion and attitude.
Mike's comment about giving kids a bucket-load of money of course depends on the maturity of the kid, but generally what he says is true.
More than ever we see the sad consequences of children who have been given more than enough from an early age. They never have to work to 'pay their way' and due to over parenting develop an expectation that mum and dad will provide whatever they need.
Kids who are given 'more than enough' are done a huge disservice. They don't develop a good work ethic or responsible 'financial muscle'. They often lose personal and professional incentive, and live diminished lives.
I began my working career by growing lettuces and tomatoes and selling them out the front of our house. I sold seeds door to door, stacked shelves at the local grocers; delivered groceries on one of those huge black bikes with a carton frame over the front wheel. I picked plums, apricots, apples and potatoes; strawberries, blackberries and blackcurrants. I packaged groceries and collected trolleys' at the local supermarket. I got up at 3 am and helped Dad do stock takes...all this and more before I left school. It built financial muscle, developing a sense of personal responsibility to 'earn my way'.
Indulging our kids does them more harm than good.
Tags: Good Parenting, Finances, Inheritance, Wisdom For Mums And Dads, Money, I Grow In Grandads Garden