Grandmothers - Everyone Should Have One
Sat, 31 May 14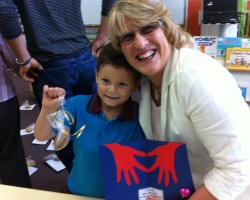 Everyone travels now. At one point a couple of years ago, I remember my daughter and son-in-law were in Athens, one of my best mates had just come back from a conference in Italy, family friends had just returned from the USA, other friends were en route to Africa, a young couple we knew well had returned to Brazil, a friend was considering accepting a job offer with a five year contract in China…
One of the best features of life in the 3rd millennium is the ease of international travel – we can go about anywhere, anytime to experience and achieve heaps of good.
One of the worst features of life in the 3rd millennium is the ease of international travel – nuclear and extended families are constantly fragmented as members of the family choose to live and work far away from those they love.
Lots of people are missing out on the enrichment of their grandmothers for example. A bunch of 8 year olds were asked 'What is a grandmother?' Here's what they wrote:
A grandmother is a lady who has no little children of her own. She likes other people's.

A grandfather is a man grandmother.

Grandmothers don't have to do anything except be there when we come to see them. They are so old they shouldn't play hard or run.

When they take us for walks, they slow down past things like pretty leaves and caterpillars.

They show us and talk to us about the colour of the flowers and also why we shouldn't step on "cracks."

They don't say, "Hurry up."

Usually grandmothers are fat, but not too fat to tie your shoes.

They wear glasses and funny underwear.

They can take their teeth and gums out.

Grandmothers don't have to be smart.

They have to answer questions like "why isn't God married?" and "How come dogs chase cats?"

When they read to us, they don't skip. They don't mind if we ask for the same story over again.

Everybody should try to have a grandmother, especially if you don't have television, because they are the only grown ups who like to spend time with us.

They know we should have snack-time before bedtime and they say prayers with us every time, and kiss us even when we've acted bad.
Wouldn't it be good if we all lived near our grandmother?

Tags: Grandmother, Grandparents, Family, Relationship, Happy